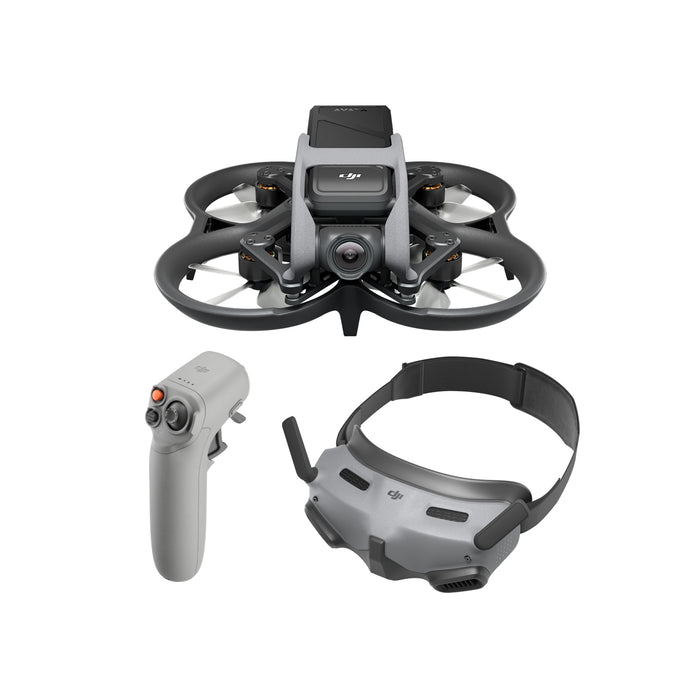 DJI Avata Pro-View Combo (DJI RC Motion 2)
Description

In The Box

Specs
DJI RC Motion 2

Immersive Motion Control
The powerful and intuitive DJI RC Motion 2 provides convenient and responsive control, allowing even beginners to quickly enjoy the fun of motion-based flight control.
With motion sensing technology, you can control the flight direction with just a slight turn of the wrist. In tandem with the joystick, you can easily navigate, maneuver, and explore the sky in a completely unique way.
When used with DJI Avata and DJI Goggles, the aircraft's flight direction will respond to your hand movements, delivering an immersive flight experience as if you were in the pilot seat.

Multifunctional and Intuitive
DJI RC Motion 2 is comfortable for extended use. 
The accelerator, mode button, lock button, and many of DJI RC Motion 2's other functions are optimized for single-handed use. Just point and fly. 
Takeoff, land, accelerate, turn, reverse, strafe right or left, and more. Unfettered flight is just a button press away.
Multidirectional Operation
Altitude and direction control is even smoother with the DJI RC Motion 2's upgraded joystick. Takeoff and land with precise accuracy and richer dynamic movement, and even tackle more complex flight maneuvers such as darting left and right.
The accelerator features a new reverse function that allows you to fly backward in tight situations. Just back up the way you flew in and avoid a tight U-turn. 
The FN dial makes adjusting the ISO, shutter, and other camera parameters a breeze. Quickly make adjustments without raising your hand to your goggles.
* Always ensure your flights are conducted safely and in accordance with local laws and regulations.
Remote Controller
Model
RM220
Remote Controller
Weight
Approx. 170 g
Remote Controller
Operating Frequency
2.4000-2.4835 GHz
5.725-5.850 GHz
The 5.8 GHz frequency band is currently banned in certain countries or regions. For details, please refer to local laws and regulations.
Remote Controller
Transmitter Power (EIRP)
2.4000-2.4835 GHz:< 30 dBm (FCC) < 20 dBm (CE/SRRC/MIC)
5.725-5.850 GHz: <br>< 30 dBm (FCC)  23 dBm (SRRC) 14 dBm (CE)
Remote Controller
Max Transmission Distance
(unobstructed, interference free)

10 km (FCC)
6 km (CE/SRRC/MIC)


When used with different aircraft, the motion controller will automatically select the corresponding firmware to match the video transmission specification of the aircraft. Measured in an outdoor open environment without interference. Actual data varies with operating environment.

Remote Controller
Operating Temperature
-10° to 40° C (14° to 104° F)
Remote Controller
Operating Time
Approx. 5 hours
Measured with an ambient temperature of 25° C (77° F), when connected to DJI Avata, and in a stationary state.